Our healthy, modern and friendly workplace supports and promotes learning and development, career progression and personal excellence. Check our current vacancies to find the right opportunity for you.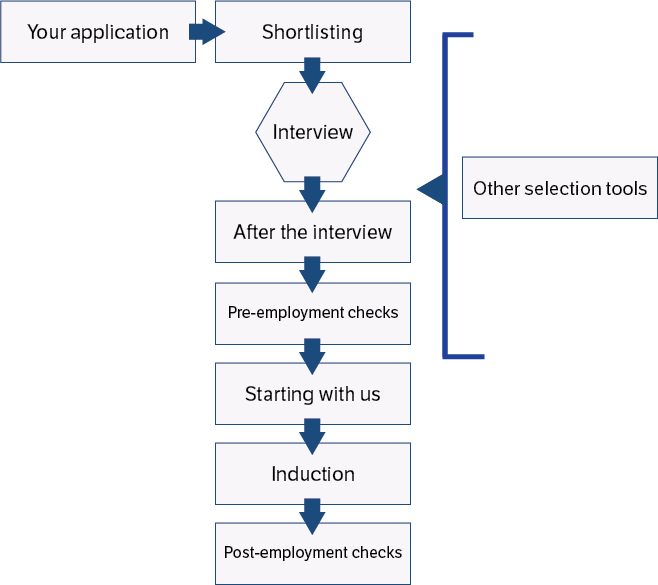 Your application
Our guidelines can help you complete your written application and plan for an interview. Use our e-Recruitment system to view and apply online for vacancies.
Read the job advertisement carefully to understand what is required. Generally, we ask you to submit a:
Current resume, including profile, career history, achievements, qualifications, training courses, and referee details, if you wish.
Completed application form (attached to the job ad) responding to 3-4 key selection criteria or behavioural questions based on specific key selection criteria.
All applications and support documents should be saved as MS Word 2003 or earlier version (.doc), MS Word 2007 (.docx), Adobe Acrobat (.pdf), text files (.pxt), or rich text format (.rtf) only.
Understanding the job requirements
Our job ads and position descriptions clearly cover what we expect from all applicants, so it is essential you read and understand the scope of the role you are applying for.
You will be given information, including:
What the job involves and in which branch.
A position description outlining the role's main purpose, responsibilities, key selection criteria, essential or preferred qualifications, and training or experience.
If the role is full-time or part-time.
If the role is being offered as an ongoing or fixed term contract.
Required abilities, skills and qualifications and extent of work experience sought.
How to submit your application.
Who to contact for more information.
The closing date for applications.
For any questions or to discuss the role before applying, contact the person listed in the job ad.
Submitting your application
If you feel a role matches your needs, skills and abilities, prepare your application. This usually involves a resume and completing an application form that asks you to address specific key selection criteria or answer behavioural questions addressing key selection criteria (attached to the job ad).
Make the layout easy to read with a classic 12pt font such as Times New Roman or Arial and adequate margins (2-3cm). Finally, edit and proof read your application for accuracy, clarity, tone, spelling, grammar and punctuation before submitting it.
Resume
Your resume has one purpose, to earn an interview with us, so tailor the content to meet the position's specific requirements. The most common resume format is a chronological summary (most recent to oldest) of information about your career and qualifications. Ideally, keep this between two to four A4 pages of typed content.
List your work history and qualifications in a way that proves your record of progressive job accountabilities and increased responsibility. Consider breaking your resume into sections to provide an effective, informative and comprehensive summary of your professional background, abilities, transferable skills and knowledge. You can find examples of resume formats online.
Key selection criteria
We develop key selection criteria for all positions. The job ad and application form may ask you to respond to specific key selection criteria or to behavioural questions relating to specific criteria.
Reference to experience can be discussed via paid and unpaid work, including voluntary and community work, but applications that refer to relevant, solid work examples will be highly regarded. Limit your responses to each key selection criteria to half a typed page.
Frequently sought skills, attributes and abilities in our key selection criteria include:
Proven ability to work within a team environment and unsupervised.
Strong written and verbal communication skills.
Proven ability to prioritise, meet deadlines and maintain accuracy in your work.
Ability to interpret and apply legislation and case law.
Proven proficiency in the Microsoft Office suite of products, including Word and Excel.
Demonstrated commitment to customer service excellence.
Initiative to learn new skills and knowledge or overcome challenges.
A useful guide to responding to key selection criteria is the situation, task, action, result (STAR) approach common in behavioural interviews.
Situation - Think of a challenging situation, preferably in your work life, that best describes your ability to address the key selection criteria. The position description will give you an idea of a situation that would be appropriate. Briefly outline this situation or scenario.
Task - Describe what tasks were required in this situation and how you identified that these tasks were necessary. You can combine the situation and task into one sentence.
Action - Mention how you took action to meet the key selection criteria. Discuss the specific action you actually took, not the action by the team or what action you might have taken.
Result - This refers to the outcome of the situation, incorporating any reflections, feedback from supervisors, customers, colleagues or others. It may also involve noting what you learnt from the experience and how your action could be improved.
Cover letter
If a cover letter is specified, it should be tailored to the advertised role, the State Revenue Office, and the key selection criteria while highlighting your relevant strengths. Restrict this to one page of up to six paragraphs.
From the job ad, carefully note words such as 'an understanding', 'knowledge of', 'ability to' and 'proven experience', and concentrate on relating your strengths in those areas.
Shortlisting
Your application and supporting documents will be read and rated by a selection panel. We may use assessments to assist with shortlisting, for example an initial telephone discussion or online assessment. Applicants are selected for interview based on relevant skills, knowledge and experience for the job.
The interview
If you progress through the selection process, we will normally contact you directly by phone and provide sufficient notice for you to attend an interview during business hours, either remotely via MS Teams or in person at our Melbourne or Ballarat offices, depending on the job location.
If you are interviewed remotely, we will contact you to advise of your interview time and date and send you two emails; one with an MS Teams Meeting link and one from our e-recruitment system confirming the date and time of the interview. You do not have to install Microsoft Teams on your device to join the video call. You will wait in the virtual lobby until the panel invite you in. You need to have a good internet connection before joining the interview. You can test your internet connection before the scheduled date and time via Telstra's speedtest. Contact your internet service provider if you are having any issues and notify the panel of issues as soon as possible.
If you need to attend our Melbourne office for an interview, report to reception on the ground floor on arrival. You will then be directed to a waiting area. A member of the selection panel will greet you and take you to the interview room. At our Ballarat office, you need to call the specified selection panel member from the phone near the front door of the office. You will then be met and taken into the office.
If you are attending our offices for an interview, please arrive 10 minutes before the scheduled interview time, allowing for travel time. Parking around our Melbourne office is time limited and in demand. Public transport and commercial car parks are nearby. If you are delayed, please contact us as soon as possible on 13 21 61.
What you need to know
Selection panels usually comprise two to three people, including staff from the branch in which the job is located, such as a branch manager or team leader. The panel may also include executives or human resources staff.
We use a structured interview process comprising a series of job-related behavioural questions. Each applicant is asked set questions so they have the same opportunity to provide relevant responses. Most questions are based on the main responsibilities and requirements of the role – the key selection criteria in the position description.
Behavioural questions focus on what you have done and how you react in different situations. You should support your responses with real examples of how you performed in similar situations. Refer to the STAR approach.
You may also be asked about your knowledge of our corporate values, your motivation for, and ability to grow into, the role and the value, skills and experience you could add.
Come prepared
Know yourself - your strengths, weaknesses and accomplishments. Identify four or five of your key strengths, including personal qualities such as the ability to quickly embrace new concepts, working in multi-disciplinary teams or exceptional organisational skills. Think of examples to demonstrate each strength and make sure you mention them during the interview.
Research the State Revenue Office
Find out as much as you can about us and your effort will show in the job interview.
Dress appropriately
Wear suitable corporate business attire for the interview.
Know your strengths
Think about your achievements and identify what to highlight to the panel. Rehearse answers to likely questions on your work history that show you would be a 'good fit' for the role. Focus on:
Specific accomplishments that demonstrate you are proactive in a team.
Any strengths closely aligned to the key selection criteria of the advertised role.
How your experience has expanded with each successive job you have held.
Examples of when you took initiative to learn new skills or knowledge.
Be confident and friendly
It's natural to feel nervous before an interview, but solid preparation and research will help you remain calm and confident. Smile and say hello to everyone on the selection panel. Clear communication with the right amount of confidence and energy will help convey your strengths.
Ask questions
All job seekers should practise responses to typical questions, but also think of questions for the panel, based on your research and the advertised role, so you can demonstrate your understanding of us.
Other selection tools
Assessments may be used at any stage of the selection process. We may use ability or cognitive tests, psychometric testing or behavioural style questionnaires, a written assessment, or seek a verbal presentation.
These additional measures give you further opportunities to provide the panel with information to support your application.
Some assessments will be completed online and require no preparation. Others may require pre-work. We will email you instructions regarding any assessments the panel requires you to complete. You will be provided reasonable time to complete the assessments and be given reasonable notice.
Where you need to complete an assessment in our office before, during or after an interview, we will provide adequate notice for you to attend. The assessment time, within business hours, will range from 30 to 60 minutes.
After the interview
Reference checks
Once interviews are completed, the panel will determine which applicant has the relevant skills and ability to best fit the position. All applicants in serious contention for the position will then be reference-checked prior to making a final decision. Generally, we do two reference checks on each applicant and expect candidates to nominate their current and immediate past managers as their referees.
Pre-employment checks
For some of our roles with financial delegations, payroll or financial responsibilities or requiring higher security access, the shortlisted post-interview and reference-checked candidate(s) must satisfy police record history and evidence of identity checks before a formal employment offer is made.
In this case, one of our human resources staff will contact you to arrange for you to complete the required police consent form, provide sufficient identification, and complete an evidence of identity check. Your completed police consent form and identification will be submitted to our police record history check provider for processing. HR will contact you once we receive your National Police Certificate.
The original evidence of identity documents we need to sight include:
Evidence of commencement of identity in Australia - one current and original document, either a full Australian birth certificate (not birth extract), Australian passport or foreign passport, and current visa or Australian citizenship.
Link between identity and person - one original document showing photo and signature, such as Australian driver licence, Working with Children Check card, Centrelink Pensioner Concession card, Health Care card, Teacher Registration card, Aviation or Maritime Security Identification cards, or current Commonwealth or state public service identification card with both your photo and signature.
Evidence of identity operating in the community - one document such as a Medicare card, credit card, or a government issued Proof of Age card.
Evidence of residential address - one original document showing your current residential address, such as a utility account or financial institution statement (less than 12 months old).
Change of name - only required if any identification document provided is in a different name, showing link with previous name - e.g. Births, Deaths and Marriages issued marriage certificate.
For higher security access role - additional checks, including a named qualification check, five-year background check, national or international police record history check and character reference check.
Contacting candidates after interview
You should receive notification of the outcome of your application by phone within two weeks of interview. If circumstances are likely to extend this time we will advise you.
Job offer
Sometimes we have to wait a short period before formally offering employment to a successful candidate. When this occurs, we will send the recommended candidate an email endorsing them for appointment to the role, subject to a five working day wait. After this, and subject to the candidate satisfying pre-employment checks, a formal letter of offer and other relevant information is sent to the successful candidate.
Starting work with us
Letter of offer
If you are offered employment with us, a formal letter of offer will be emailed to you with a link to our new starter forms and other relevant information. The letter of offer will outline your job role, title, contract type, branch, location, start date and salary.
You must sign the second page of the letter (the Acceptance of Employment Terms document) and complete the new starter forms and return them to us before your start date. Before signing acceptance of our employment terms, please read all the information in your letter.
Qualifications
If mandatory qualifications are specified in the position description, all successful applicants must provide details of their qualifications, certificates, professional memberships, or licences to human resources to verify before their start date. If higher security access applies, we will verify all qualifications, certificates and memberships listed by a candidate in their application documents as part of checking their evidence of identity.
Post-employment checks
Police record history checks
For most roles, offers of employment are made subject to the applicant agreeing to a police record history check, which is normally processed during a staff member's first three months with us.
The required documentation (a State Revenue Office police record check information sheet) is provided on the new starters page of our website. You will receive a link to this page in the email we send you with your letter of offer. The information sheet outlines what will be considered by us when assessing information disclosed by a police record history check, and outlines the review processes if an adverse decision is made.
Employment screening check form
All jobs at the State Revenue Office have employment screening as part of the onboarding process. You will be asked to complete a declaration and consent form about your history of misconduct.
Select 'do not know/cannot answer' to questions on the declaration if you have:
confidentiality obligations,
non-disclosure obligations, or
legislative obligations.
Probation
Most appointments are subject to new staff successfully completing a six-month probation. If you secure a role, you will meet with your work supervisor shortly after you start and develop a probation plan. This will list specific measurable goals, measures, quality or achievements to be assessed during your probation period. During your probation, you will receive informal feedback from managers on your work performance. About a month prior to probation expiring, you will meet with your work supervisor for a formal assessment of your performance against your probation plan. If you satisfy your probation requirements, your appointment is confirmed in writing.
Induction
As a new employee, you will undertake a comprehensive, supportive and interactive new starter induction program. It comprises face-to-face, online and on-the-job training. Our induction program assists you to:
Develop an understanding of our business, structures, functions and processes.
Become aware of policies including privacy, code of ethics, conflicts of interest, gifts, benefits and hospitality, and dress code.
Clarify expectations.
Meet other new staff and build networks.
Gain an understanding of performance standards, how support is provided, and employee policies.